privacyIDEA on Univention Corporate Server
privacyIDEA 2.11 is now available on the Univention Corporate Server. Using authentication policies privacyIDEA can conditionally forward authentication requests to external RADIUS servers. This way you can setup easy migration scenarios of old, EOL OTP systems.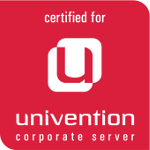 You can find more on the RADIUS forwarding in the release notes.
SLA and Subscription
Already for a while privacyIDEA is available in the AppCenter of the Univention Corporate Server. This plattform provides an easy installation, maintenance and update. For running privacyIDEA on the Univention Corporate Server you need a valid service level aggreement. You may get your personal test subscription here.