Two-Factor-Authentication at the Windows Desktop
You can install privacyIDEA Credential Provider on Windows 10 or Windows Server 2016/2019. The privacyIDEA Credential Provider enhances the login with the username and the password by an additional OTP field. Here the user needs to enter a one time password, which he generated with a security token (hardware token, smartphone App, Email, SMS). This way the user is only able to login if he knows the password and is in possession of this security token.
This way you can implement a flexible two factor login with knowledge and possession at the windows desktop.
The privacyIDEA Credential Provider checks the OTP value against the privacyIDEA authentication server. All supported token types can be used with the privacyIDEA Credential Provider.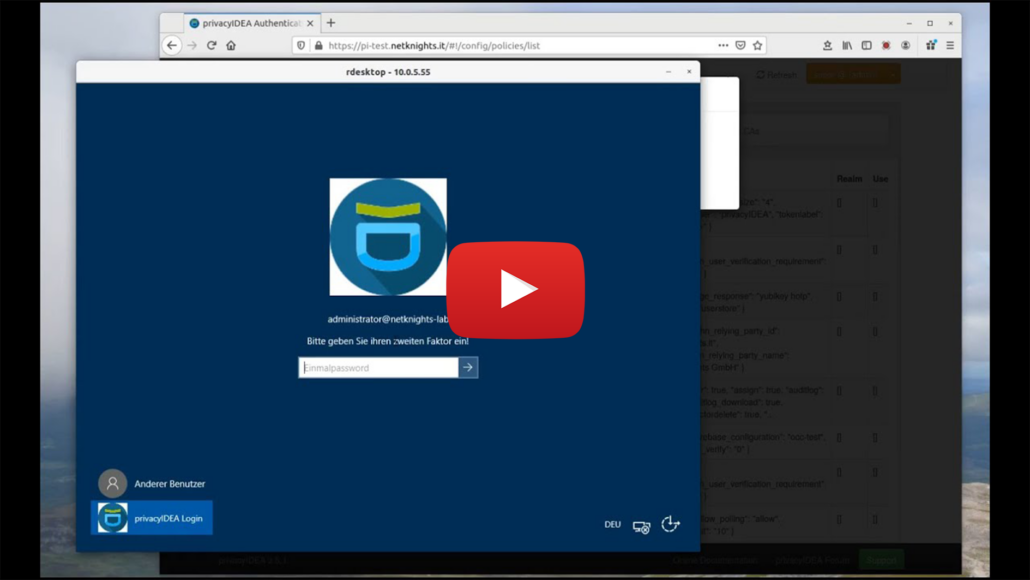 Ask us for an evaluation copy of the privacyIDEA Credential Provider.
Service Level Agreements and Pricing
You can get different Service Level Agreements, which you can buy as add-on to your privacyIDEA Enterprise Edition.
Included in all support levels:
Support term 1 year: The subscription is agreed on for one year.
Product liability: The AGPLv3 license contains the passus WITHOUT ANY WARRANTY. If you are running privacyIDEA productively you may need a product liability which is granted by NetKnights.
Product enhancements:Assure the continuous development of privacyIDEA and the privacyIDEA Credential Provider.
Security and bug notification:You are informed regarding security aspects of the product and bugs via email.
Updates: of the Windows binary installer / MSI package for Windows Desktop and Windows Server.
Provider
12x5: Mo - Fr 8am -8pm (CET)

up to 10 domains/forests in your own data center

Preferred feature implementation
Enterprise
8×5: Mo – Fr 9am -5pm (CET)

Installation in one domain/forest

Preferred feature implementation
Small Business
8×5: Mo – Fr 9am -5pm (CET)

Installation in one domain/forest