Univention Corporate Server (UCS) is the innovative basis for the cost-effective operation and simpler administration of server applications and entire IT infrastructures. After all, this standardised Open Source infrastructure solution can be implemented with little effort and is also suitable for the operation of distributed, heterogeneous and virtualized IT infrastructures. Whether you predominantly use Microsoft Windows, OS-X or Linux systems is of no matter.
Features
The important key features of UCS:
Enterprise Linux distribution as a basis for a stable, secure and cost-efficient IT infrastructure
Integrated management system for the central administration of servers, clients and users as well as a wide range of server applications
Identity management with single sign-on functions for users and cloud services
Microsoft Active Directory-compatible domain services for the uncomplicated integration of Microsoft operating systems
App Center for the easy installation and management of UCS components and applications from many well-known manufacturers
Functions for virtualizing server and desktop operating systems
All Univention products are 100% Open Source
Customers Use Cases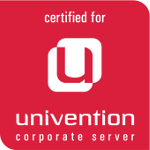 In our customer projects we use the Univention Corporate Server on the one hand as the leading directory service and on the other hand as operating system platform for privacyIDEA as the authentication backend to rapidly deploy two factor authentication.
privacyIDEA is certified for the Univention Corporate Server and provides the Two Factor Authentication at the Univention Management Console.