Protect your data in your ownCloud with a second factor
The privacyIDEA ownCloud App is used to add a second factor to the ownCloud login. You can now authenticate against privacyIDEA. This way you increase the security of your online data. Security breaches can be avoided.
Using the privacyIDEA audit log you can also see which user logged in to ownCloud, when and with which authentication device.
The privacyIDEA ownCloud App is available for ownCloud 8, 9 and 9.1. Of course you can use the privacyIDEA ownCloud App with Nextcloud.
ownCloud 8 and 9
In ownCloud 8 and 9 the complete password is validated against privacyIDEA.
ownCloud 9.1 and above
With ownCloud 9.1 there is a new 2FA framwork. The second factor is required after the user has authenticated with his ownCloud password successfully.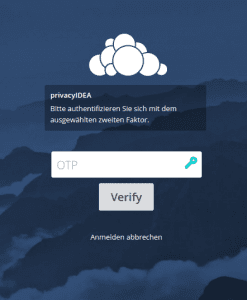 Pricing
A community edition is available via github for up to 50 users free of charge!